Carry luggage. And responsibility.
Racktime work hard at improving their reputation. Every day. The results show in award-winning products which are innovative, robust, made to last, comfortable and lightweight. Racktime want to be good at how they cooperate and treat each other, and they set high standards: their own.
Therefore, most of their production steps take place in Germany. Regarding their suppliers they put special emphasis on environmental issues and exemplary work safety.
Their social involvement includes employment of handicapped people, supporting a programme for resocializing prisoners, sponsoring the local art association (Westfälischer Kunstverein), and supporting social and environmental projects. The company grounds offer space for traditional fruit trees and wildflower species providing room for their own bee colonies. Their products' lives are not quite as pleasant: they torture them around the clock in their test laboratories.
Racktime system
The heart of Racktime's system: the Snapit adapter. Designed for quick changes, tested for a lifetime. Stable, secure, and geniously simple. Snapit connects your basket, bag etc. with your racktime carrier and can be mounted to anything, no matter what you want to transport on your bicycle.
Creative and systematic
Think it through, develop, design. Make it, test it, optimize it. Racktime's creative team of a dozen of product developers at their German headquarters in Muenster are full of ideas and energy. Consequently Racktime are not only the pioneers but also the main innovators in the bike industry constantly offering new path-breaking products.
Just as e.g. their latest collection of bags in racktime quality: Since design and product development are all happening at Racktime they can guarantee that each individual racktime system solution is well thought through and well made, just the way you are used to it.
Besides launching new products and continuously perfecting existing carriers and transport system solutions they are constantly working on developing innovative, efficient and environmentally friendly production methods: Of course Racktime are equipped with top modern high tech machines and apparatuses in order to be ahead of time.
Down to the last detail: Racktime's quality management
Riding across bumpy cobblestone roads, sliding on snow, slush and road salt, exhaust fumes, gravel, strong sun, continuous rain. Your bike's life is sometimes quite hard. That is what they know. Therefore all their carriers, bags, baskets accessories are designed for tough use in daily life. No matter what your plans are, racktime products will come along and will look good. Because they are sturdy, long-lived and easy to care for.
Racktime manufacture all samples and prototypes in their company in order to ensure this without any restrictions. Racktime's tests are quite tough: In Racktime's in-house test center they first check and test the material and then the finished product.
Their test mechanics rattle and shake each racktime product in accordance with ISO 11243:2016 until it is ready for the market. And far beyond these requirements: ready for dirt road and cobblestone alleys.
Racktime are not satisfied with fulfilling all DIN and ISO requirements but go far beyond these standards and simulate the actual stresses of a long bicycle life - of course fully loaded. Products bearing the name racktime must withstand a decent proportion of oscillating and vibrating with a smile.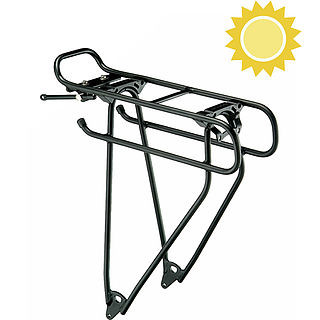 UV test
Racktime love sun, but for some materials it is detrimental and accelerates aging and fading. However, their surfaces have no problem with sun rays. So let the sun shine!

Material stability and colour fastness
Vertical stress test
What load can my racktime carrier take without any problem in serious terrain? Racktime will find out for you.


Static stress with 3 times the nominal stress
Vertical test
Potholes, dirt roads, cobblestone, Racktime's test carriers know all of them and a lot worse - from our test laboratory.
7 Hz
100.000 cycles
4 hours
Lateral tensile load
Racktime carriers must withstand quite some tension without influencing the riding stability.
Static lateral load (force of nominal load)
Lateral test
Just as in reality: Back and forth. If it bends it's not a racktime carrier.
1 Hz
100.000 cycles
28 hours

Salt spray test
Aggressive salts and chemicals will attack surfaces- as you know with cars, especially when road salt is used in the winter time. Therefore they put high emphasis on high resistance.
Resistance to acids/ chemicals