| | |
| --- | --- |
| Daily Rate | SPRING PROMOTION: $42.50 (regularly $85) |
| Hourly (afternoon walk-ins only) | $25 |
| | |
---
Extras
Pet Tow-behind or kids tow behind is available for use for an additional $25.
---
FOR A LIMITED TIME- Our Spring promotion is 50% off our Premium E-bike daily rentals rate. THIS RATE IS ONLY AVAILABLE FOR ONLINE BOOKINGS, sorry not available for walk-ins or reservations made over the phone. Use CODE: Spring50 at checkout. This discount can only be applied to our Premium E-bikes, it is not valid on other bikes that we offer. 
Bikes can be picked up and returned anytime the day of the reservation for full-day rentals. Bikes not returned before closing will be subject to a $100 late fee, plus the fee for a second-day rental. 2nd day rentals are at 50% off of the first day rental rate (excluding any discounts). 
Hourly rentals on all bikes are available for same-day walk-ins after 12pm and are based on availability.
Check with your hotel or short-term rental for special promotional rates (up to 20% off). 
Repeat customers get 20% off. 
Locals get 50% off daily rates on Wednesdays- must provide ID with local address. 
Complimentary Valet Parking at our Monterey location is offered by the Monterey Plaza. 
Sorry, DISCOUNTS CANNOT BE COMBINED. Only one discount per transaction. Discounts cannot be applied to a previous rental that has already occured. 
---
Premium Family Cargo E-bike
| | |
| --- | --- |
| Daily Rate | $95 |
| Hourly Rate | $35 |
---
Dual Bosch battery/ up to 150 mile range. Each bike will hold the rider and an additional adult or up to two children can ride on the back- 400 lb max… we can provide up to two Yepp infant seats (for children up to 49 lbs) or a bench seat with or without rails for older kids or adults to sit on the back at no additional charge.
---
Vintage Style Limited Edition E-bike (with or without sidecar)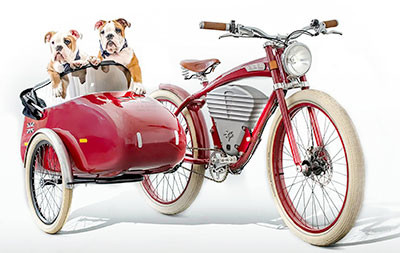 Daily Rate



$125


Hourly (afternoon walk-ins only)

$45

Sidecar add-on 
(for kids and dogs)

$50
Note: 100 lb max in sidecar/ 275 lb combined max weight for rider and cargo – only meant to carry children and pets.
---
This is a $6000-$7000 Vintage Electric E-bike (electric bike) with throttle and pedal assist, and an optional $2500 custom sidecar.
Repeat customers with dogs receive 50% off our hourly booking rate- this is for our loyal customers that visit us monthly (or more often). 
This is our signature cycling experience! We are the only bike shop in the US where you can buy or rent this amazing bicycle sidecar. We have paired it with a beautiful Vintage Electric pedal assist/throttle e-bike. This is a truly unique experience that we are proud to offer.
---
Butchers & Bicycles or TrioBike Mono Cargo E-bike
| | |
| --- | --- |
| Daily Rate | $125 |
| Hourly Rate | $45 |
Holds up to two children in the cargo box.
---
If you are interested in purchasing this bike you can rent our demo bike for the day and we will credit rental fees towards your purchase. 
Note: Currently only available for rent from our Mill Valley and Monterey shops.
Mill Valley Lumber Yard Promo: Free one-hour rides every Sunday at our Mill Valley shop, based on availability. 
---
Full Suspension Off-Road Turbo Mountain E-Bike
| | |
| --- | --- |
| Daily Rate | $125 |
| Hourly (afternoon walk-ins only) | $45 |
---
Extras
Thule Hitch-mount ebike rack available for $10/day.
---
Available in small, medium and large.
These bikes retail for 7k each and are the best full suspension e-mountain bikes available. 700 Wh batteries.
Additional days at 50% off our daily rate. 
Thule xt2 for two bikes (2" hitch mount)- $25 per day based on availability. 
---
Performance Turbo Road E-Bike
Specialized 2020 Turbo Creo SL or Creo Evo
| | |
| --- | --- |
| Daily Rate | $125 |
| Hourly Rate | $45 |
Road bikes: Clipless pedals are available at no additional charge. We try to have the most popular pedal systems on hand but please call in advance to check if we have yours. $5.00 pedal rental fee. 
Please bring your own shoes. A spare tube, helmet, pump, repair kit and a seat bag are provided with each road bike. 
A secondary range extender battery can be rented with the bike. 
Additional days are 50% off of our daily rate. 
---
Retro Style Super 73 E-bikes
| | |
| --- | --- |
| Daily Rate | $95 |
| Hourly Rate | $35 |
This is the bike that started it all! An iconic retro style ebike from a Southern California company that launched in Venice Beach back in 2015. This bike is super fun to zip around on. With multiple levels of pedal assist and an optional throttle, plus front suspension, you will have all of the power desired to zip around in style. 
- NOTE: While you may choose to take your own personal bike off-road and on the beaches, we do not allow our Super 73 rental bikes to go off- road on dirt trails or sandy beaches. 
We reserve the right to charge up to a $200 cleaning and maintenance fee for any bikes that are taken off-road, other than the Specialized Turbo Levo. 
If you want to go trail riding, our Specialized Turbo Levo is designed for that type of experience and is the bike you should be booking. Ebikes do not like salt water and beach sand- both shorten the life of the electronics and components. 
| | |
| --- | --- |
| Daily Rate | $65 |
| Hourly Rate | $25 |
The Super 73 Z1 is ideal for smaller riders. This bike is throttle only, no pedal assist. You can pedal, but there will be no assist in the pedals. Most riders use the throttle. This bike has a smaller battery than our other bikes, and so the range is 15-20 miles per charge based on rider weight. This is the ideal bike for the Monterey Rec trail. 
***At this time we only offer this bike for rent from our Monterey shop. 
Note: This bike cannot be taken off-road or on beaches. We reserve the right to charge up to $200 for cleaning and maintenance for any bikes that are taken off-road, other than the Specialized Turbo Levo.
Enquire about renting a bike